Police Record Check
Note: We now accept Level 2 Criminal Record and Judicial Matters Checks.
In order to provide Emotional Support as a Chat/Video Responder at Certified Listeners Society, you will be required to obtain a Level 2 Criminal Record and Judicial Matters Check from your local police service.
To learn more about police record checks, visit the Ministry of Solicitor General's website by clicking here.
NOTE 1: Any disclosure of vulnerable sector involvement or criminal record on the police check will not necessarily prevent a volunteer from a role at Certified Listeners Society. Decisions will be made on an individual basis, in compliance with the Ontario Human Rights Code. All information collected will remain confidential and all records will be destroyed once verified.
NOTE 2: Each Police Service charges its own fees for Police Record Checks; you will be responsible for these fees. We have no control over their fees.
NOTE 3: Although we require at minimum a Level 2 police check, we will also accept any valid Level 3 Vulnerable Sector Check.
Please select the Municipality/Region you reside in from the list below. If you cannot find your local police service on the list below, please check their website directly.
Level 2 CRIMINAL RECORD AND JUDICIAL MATTERS CHECK is accepted.
Durham: click HERE
Halton: click HERE
OPP: click HERE
Ottawa: click HERE
Peel: click HERE
Toronto: click HERE
York Region click HERE
"Request Letter"
Not everyone needs this letter; however: If you need a letter from us to obtain the police check, please print the "Request Letter" below. Enter your name and the name of your local police branch, and you will receive an email with the letter attached.
Note 1: Only send this letter if required/requested by the police service.

Note 2: If you do NOT receive the form via email, a) Make sure you use a computer, not a mobile device. b) Copy the URL and try submitting the form on different browsers and/or an incognito window. c) If everything fails, please get in touch with us at help@certifiedlisteners.org and let us know the problem.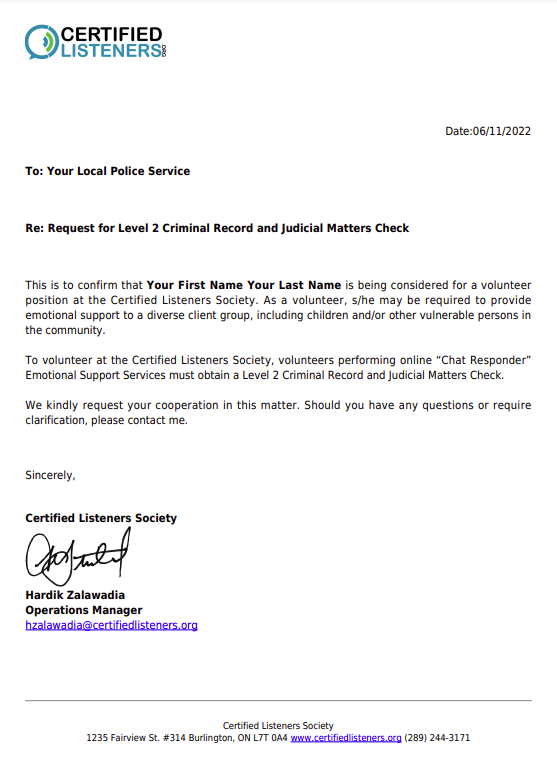 Disclaimer:
While the Certified Listeners Society makes every effort to provide accurate information, we are not qualified to give legal advice. For complete and up-to-date information regarding police records checks, contact your local police service or visit the Ministry of Solicitor General's website by clicking here. For legal advice, please consult a lawyer.