Due to the COVID-19 pandemic, we ask our volunteer candidates NOT to visit their police service branch for police record checks at this time.
Please submit a Swore Affidavit in place of the Police Record Check.
Swore Affidavit
Police Services are closed due to the COVID-19 Pandemic. Please provide a Swore Affidavit with your application in place of the official Police Record Check. You will be asked to provide the proper Police Record Check once the COVID-19 Pandemic is under control and government offices reopen.
Please enter your name, city, province and today's date. You will receive an email with the Affidavit as a PDF attachment. Sign it and submit it in place of the Police Record Check.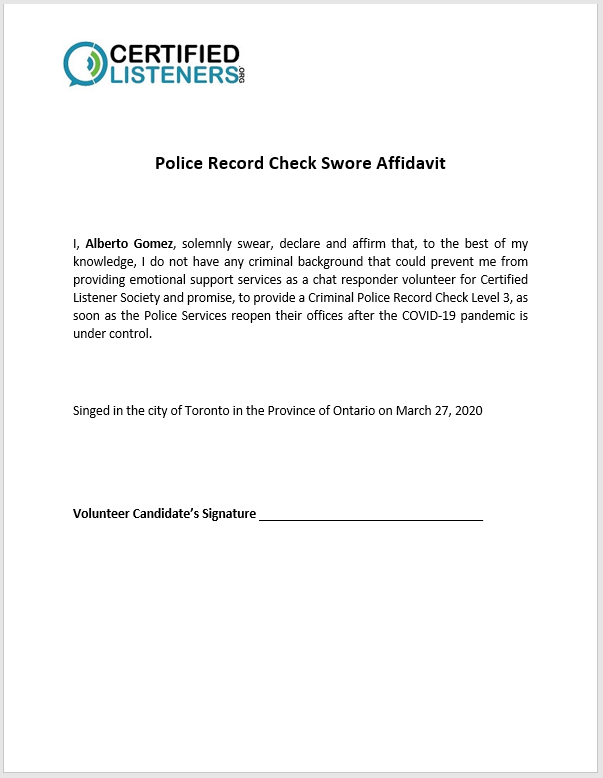 Police Record Check (NOT REQUIRED AT THIS TIME)
In order to volunteer at Certified Listeners Society, performing online "Chat Responder" Emotional Support Services, you are required to obtain a Police Record Check Level 3.
To learn more about Police Record Checks, you can learn more about it an article by Volunteer Ottawa. You can find the article here.
The Police Check Request Letter below is the letter we provide for you to request your Police Record Check to your local police branch. Enter your name and the name of your local police branch and you will receive an email with the letter attached.
NOTE 1: Vulnerable sectors involvement or a criminal record will not necessarily prevent a volunteer from a role at Certified Listeners Society. Decisions will be made on an individual basis. All information collected will remain confidential and all records will be destroyed once verified.
NOTE 2: Each Local Police Service charges different fees for Police Record Checks. We have no control over their own fees.
NOTE 3 Toronto Police Service: If you live in Toronto and want to learn more about how Toronto Police Service manages background checks, go HERE . To download the Toronto Police Service "Consent to Disclose of Personal Information" from, go HERE
Sample Request Letter